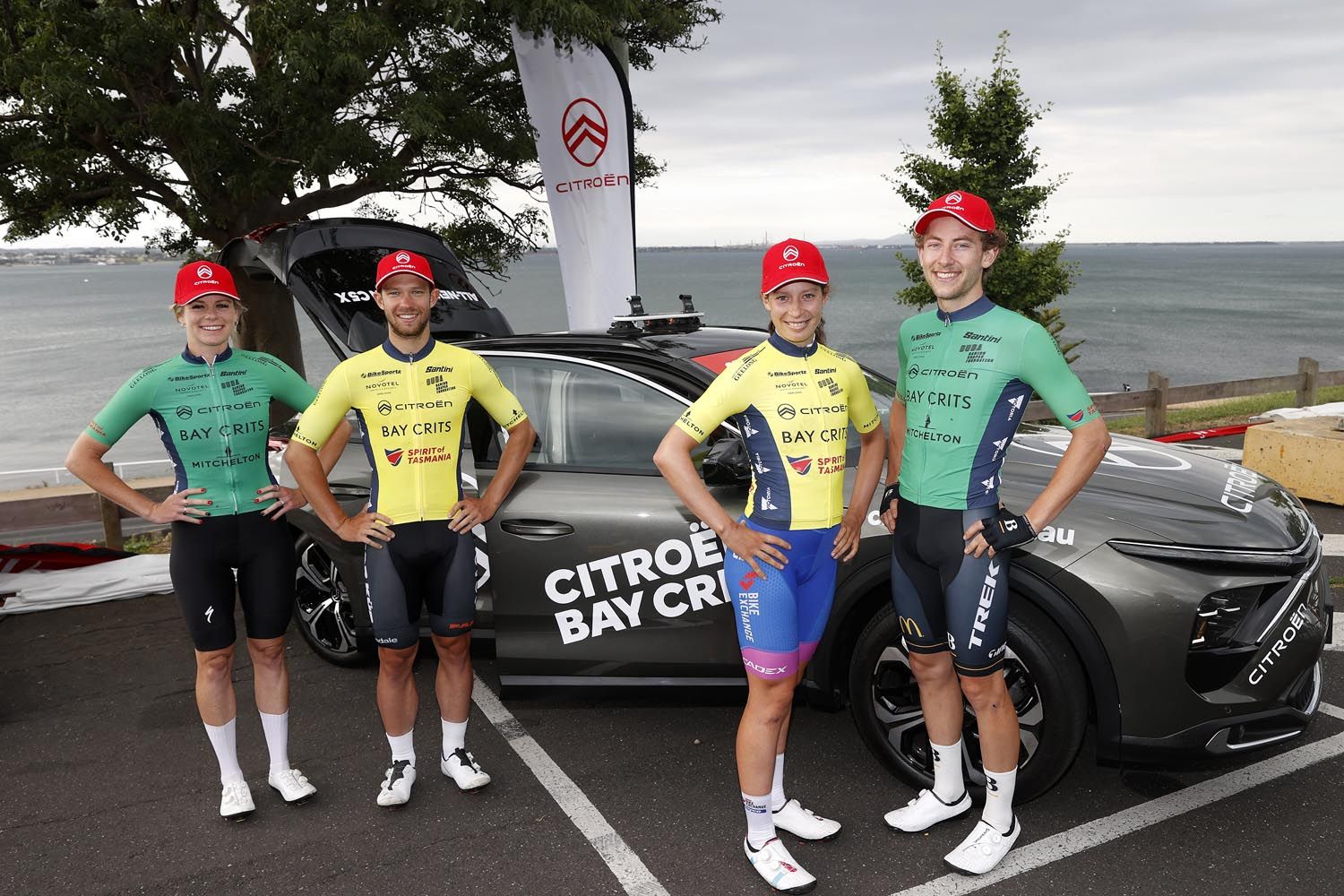 Stage two at CITROËN Bay Crits sees Frislie fly and Ruby rule
Graeme Frislie flies into the yellow leaders jersey, while a Ruby Roseman-Gannon repeat is just one win away.
Geelong presented windy conditions for day two of the CITROËN Bay Crits with riders taking on the anti-clockwise 1.88km course at Eastern Gardens, and the cross winds saw some exciting racing and a little occasional white cap on Corio Bay.
In the women's Ruby Roseman-Gannon (Bayside CITROËN) has a stranglehold on the title, with an opportunity to repeat her 2022 win. Only international superstar Olympian Amanda Spratt (Novotel Prestige Jayco) is a genuine chance within striking distance and a win for her can only occur if she triumphs and Roseman-Gannon fails to finish in the points.
The defending champion's team mate Matilda Raynolds animated the race early, opening up a 20 second gap to the peloton and forcing her rivals to chase, before the race eventually came back together towards the midway mark. Danielle De Francesco, triple Commonwealth Games gold medalist Georgia Baker (Bayside CITROËN), Keely Bennett (Team Bridgelane) and Chloe Hosking (Roxsolt Liv SRAM) were also busy and Bennett and Hosking rounded out the final podium.
Danielle De Francesco took the Mitchelton Wines green sprinters jersey, while the win puts the 24 year old Roseman-Gannon in the box seat for a wonderful start to the season ahead of the road nationals next week.
Ruby Roseman-Gannon (Bayside CITROËN) Winner day two
"The way my team raced today I really wanted to finish it off for them, we put on a show, it was great racing and we attacked a lot and I think you saw that with Matilda's efforts, we were hoping she would stay away but can't thank them all enough.
"In regard to tomorrow I've only raced the tight hotdog circuit once before and that was with Amanda Spratt a few years ago, and it was a hot day and I was hanging on for dear life with my idol, so the circuit holds special memories for me as she won that day."
In the men's it took nearly 30 minutes before any real action unfolded, when James Whelan and Connor Sens escaped and opened up the first solid gap with a 15 second lead.
They shared duties on the front trying to stay away, but with less than three laps to go the peloton hunted them down and surged past. The regrouping allowed Simon Clarke and Cameron Ivory, both with Novotel Prestige Jayco, to put the hammer down and attempt a surprise sprint to the line. The pair holding out till the last climb before being over-run.
There was some close contact in the lunge to the line before Graeme Frislie (CCACHE x Par Kup) gained the advantage over ARA Skip Capital duo Craig Wiggins and Blake Agnoletto who took second and third. Frislie going one better than yesterday's second place.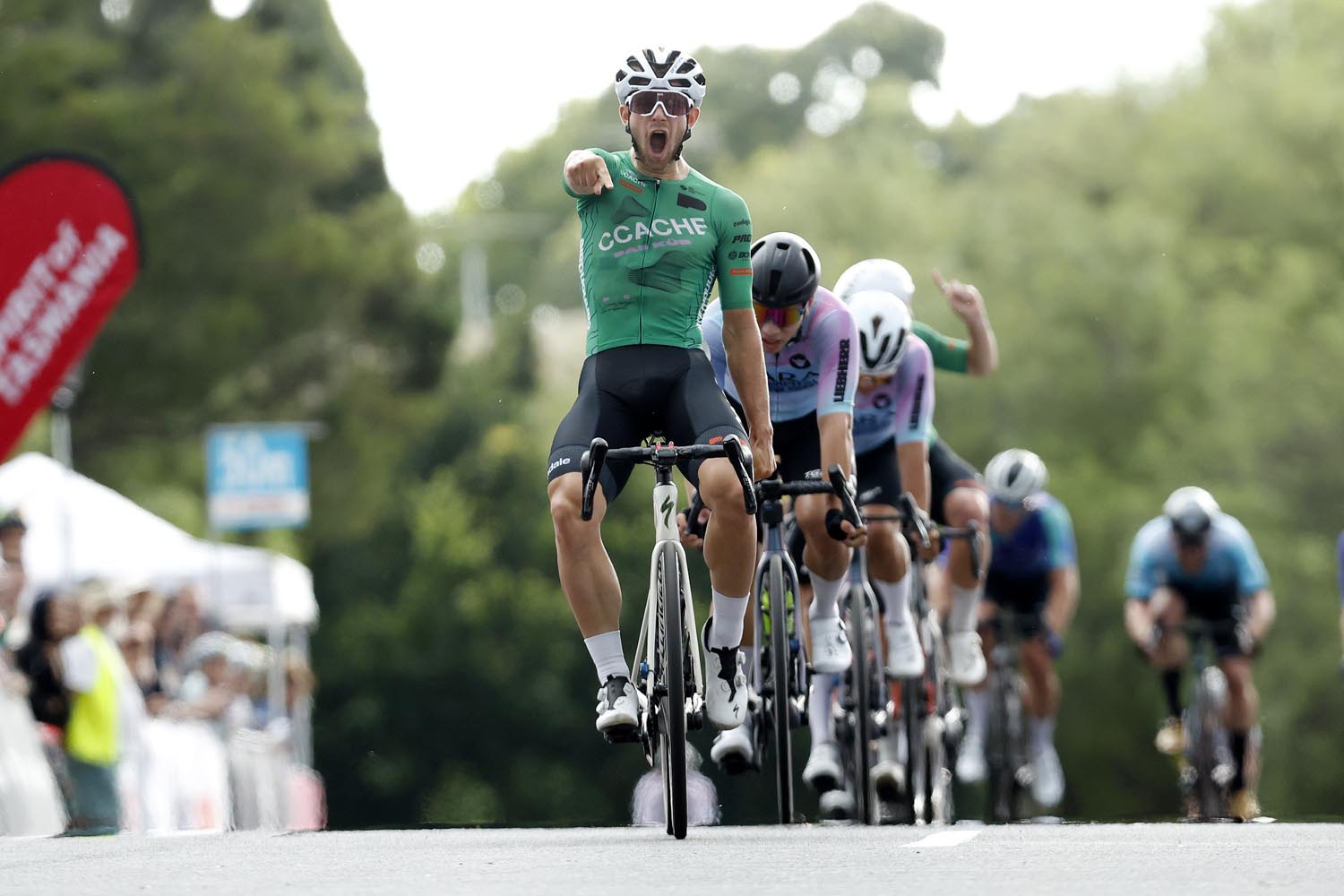 Graeme Frislie (CCACHE x Par Kup) Winner day two
"It was really good fun out there, it was hard with that wind every lap, my legs came good in the end. It was a bit hairy in that finish when BJ (Jones) and Craig coming together but managed to get a good run at the end and yeh, pretty happy with that. I just stayed on the outside while everyone else was diving on the inside."
Day one leader Brenton Jones (Bayside CITROËN) remains in the hunt for the fairytale finish in second place overall, while Tom Chester is the sprint ace.
The big finale is at Ritchie Boulevard on tomorrow, Tuesday January 3 with the tight turns of the 'hot-dog' track set to stage (as always) some of the closest racing we have seen in Australia. The winners will be crowned tomorrow evening
More than 200 cyclists are competing in the men's and women's elite Criterium and support events, across January 2023 in Geelong.