Fairytale finish to glittering career for Jones, while Ruby rules again.
Fairytales do come true, as Jones scores swansong win by narrowest of margins, while Roseman-Gannon again dominates the women's event.
It was an emotional and hard-fought win to cap a glittering 20-year career, but it went right down to the last second as Brenton Jones (Bayside CITROËN) took out the CITROËN Bay Crits title on a points count-back from Graeme Frislie (CCACHE x Par Kup).
Jones stormed home to clearly claim the stage three victory and with Frislie coming in third by a single tyre width behind Blake Agnoletto (ARA Skip Capital) the narrow advantage was enough separation for them to finish on equal points (30) with Jones winning on a count-back with his two stage wins to Frislie's one win yesterday. Had Frislie finished second the yellow would have been his.
The popular retiring veteran's win sparked emotional scenes from the Jones family, who all work on the cycling events, with Mum Karin (Event Director) and pregnant wife Lucy in tears of joy. He adds a second Bay Crits trophy to his cabinet after victory in 2014 and had announced that this year's race would be his last after two decades in elite level competition in Australia and Europe.
Earlier Jones' team mate Luke Plapp had animated the race and his surge took a toll, with nearly half the riders retiring by the midway point of the race. Frislie had suffered a crash and took two laps out of the race as is permitted, before rejoining. Tom Chester also suffered a mechanical issue, but went on to claim the Mitchelton Wines Sprinters Green Jersey.
After a tense 10 minutes of deliberations by officials and clarification on the photo 31 year old Jones was declared the overall winner
2023 CITROËN Bay Crits winner - Brenton Jones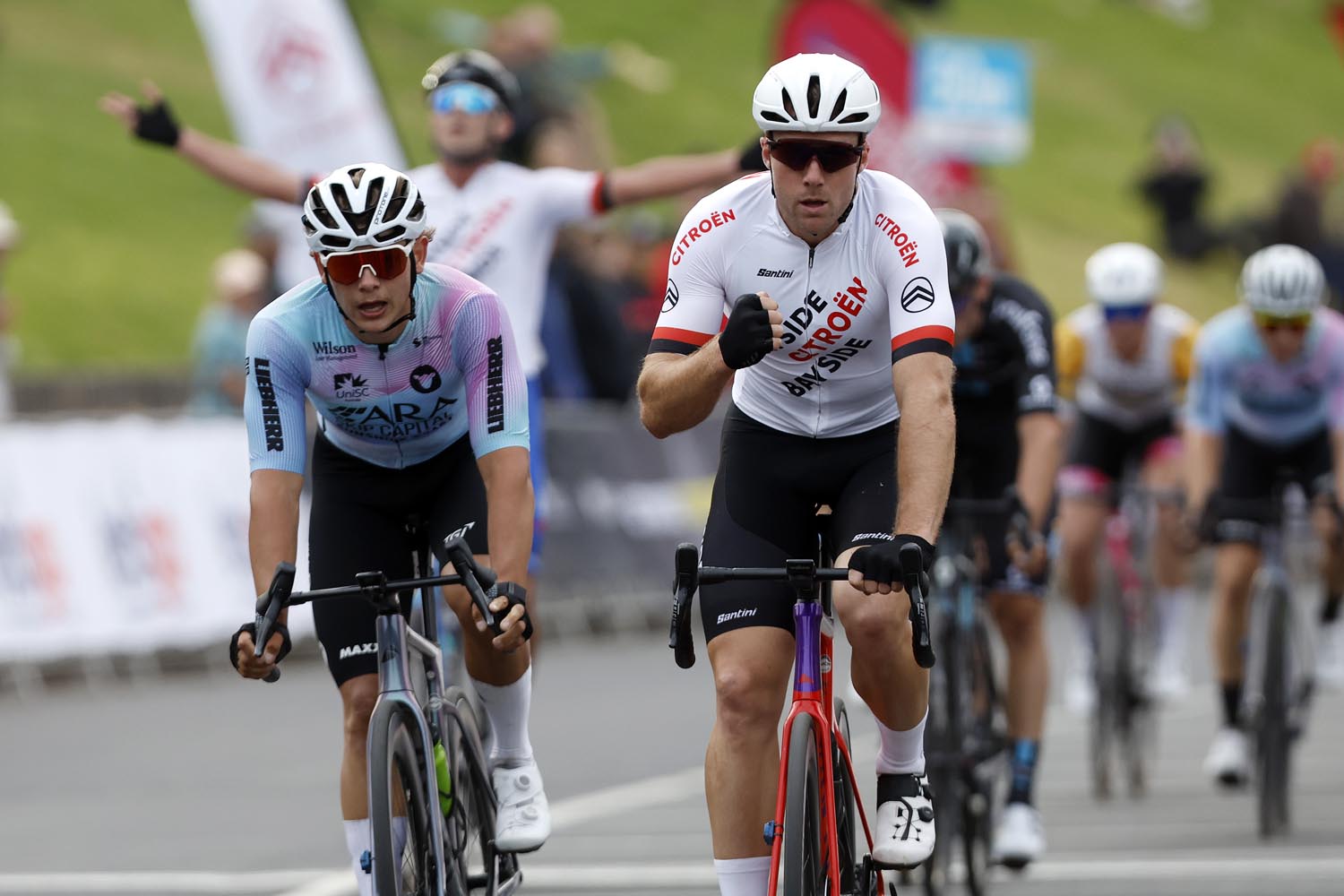 "I knew I had to do that, I knew I had to win the stage. I knew he had to get third or worse and he did. Two stage wins, and equal points, two stage wins, wins. And the last day I finished in front. Incredibly proud of Graeme's ride as well. I respect him as a teammate last year. But to get my second win overall here is amazing and to end my career like this is fantastic. I'm really looking forward to the future now.
"You saw Plappy at the start, Ferg and the rest of the boys during the race and then Blake (Quick) leading me out like I did for him last year. The camaraderie there is amazing and I'm incredibly proud to do it again."
In the women's race Matilda Raynolds (Bayside CITROËN) took the stage win, finally taking top step on the podium after some near misses in recent years. And while the day was hers, the overall event again belonged to team mate Ruby Roseman-Gannon (Bayside CITROËN) who had been imperious in the racing.
She defended her crown despite missing the victory, her 10th place enough to seal a dominant display after winning the previous two stages - her 25 points ahead of Bayside CITROËN teammate, triple Commonwealth Games champ Georgia Baker, with Chloe Hosking (Roxsolt Liv SRAM) third overall.
The 24-year-old also edged Danielle De Francesco by just one point to claim the Mitchelton Wines sprinters green jersey in a dominant double.
2023 CITROËN Bay Crits winner - Ruby Roseman-Gannon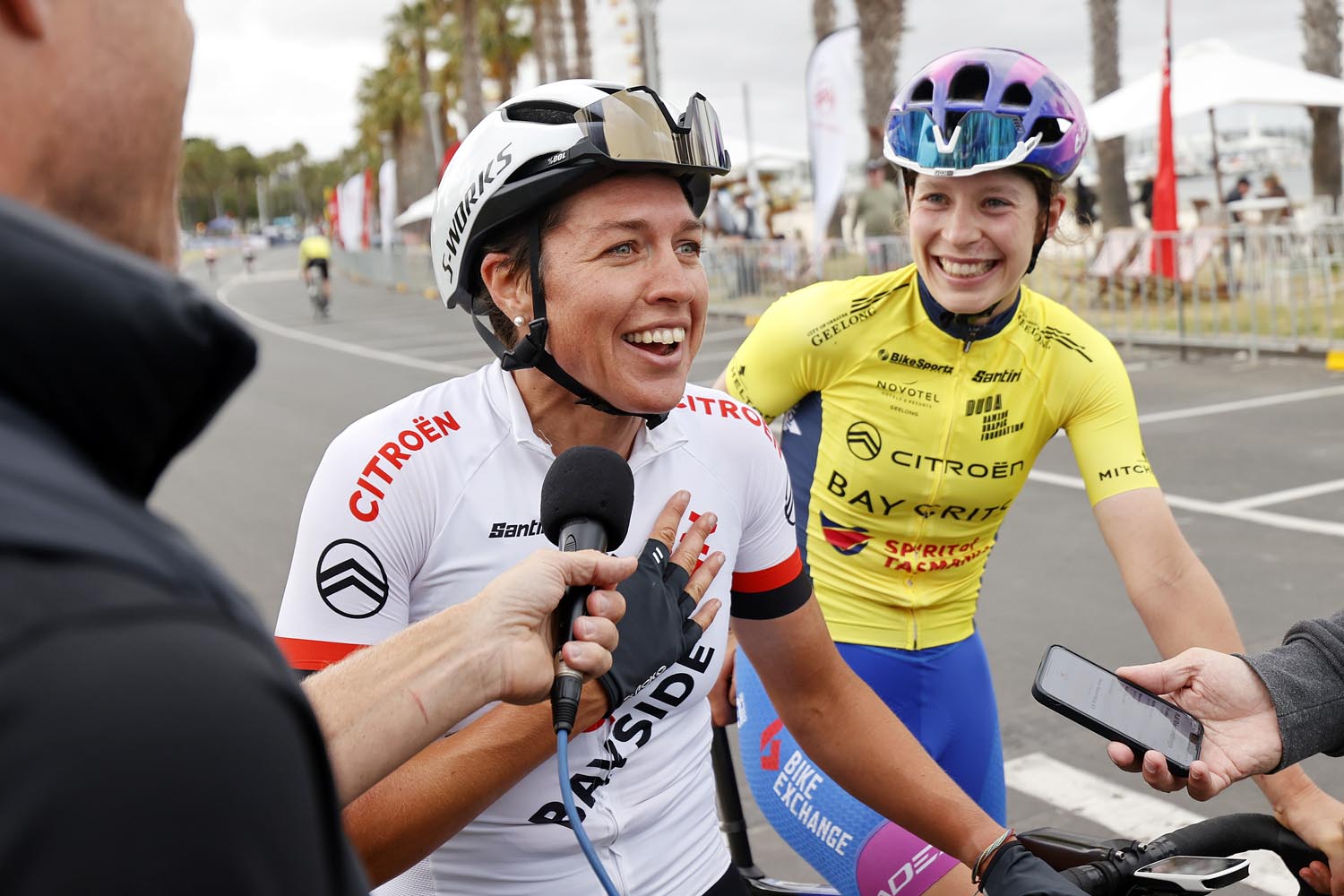 "I think sometimes you've got the pressure on your shoulders and you just need someone to back yourself. And I know Matilda very well, last year on the last stage of this we rode the bay together and I know how strong she is, what a talented rider, so I backed her all the way and she pulled it off. It's an amazing day.
"We had some fun out there. We raced pretty aggressive at the start, which is what split up the bunch a bit, and allowed a move to go. We wanted to make it exciting, so yeah it was really good and the break got away, and the bunch slowed down to nothing and we thought we were going to get pulled for a bit, but great day out there. Amazing race."
The performance sets her up to defend her national criterium title at this week's Australian championships in Ballarat, while Raynolds, 35, doesn't have a pro team ride yet this year and hoped her performance could help her find a new home.
As usual the tight turns of the 650m 'hot-dog' track set (as always) some of the closest racing we have seen in Australia. More than 200 cyclists competed in the men's and women's elite Criterium and support events, across January 2023 in Geelong.
It was all made possible with the brilliant joint support of the Victorian Government's Significant Sporting Events Fund, Visit Victoria, and the City of Greater Geelong, and the new look Bay Crits has set a spectacular season-opening benchmark for 2023 with brand new sponsors in CITROËN and The Spirit of Tasmania.