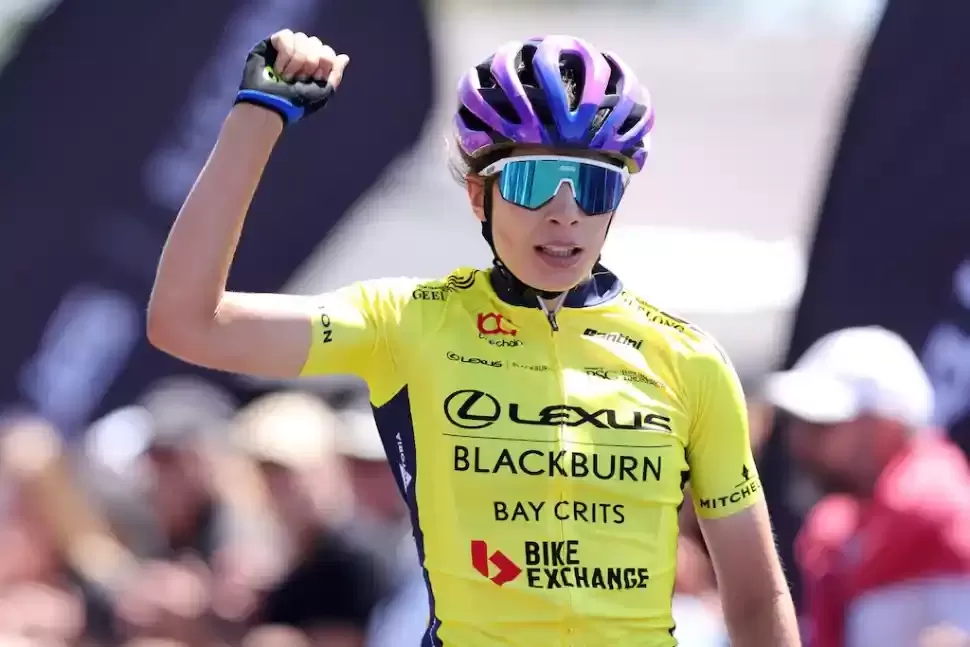 Ruby returns to take out Sunday
The two winners from stage one have stormed home to take out the top titles in the Lexus of Blackburn Bay Crits, powered by PSC Insurance.
In the women's race two of the big teams featured prominently right from the start with Catalina Soto (Lexus of Blackburn) and Eloise Sandow (Inform TMX MAKE) jumping off the front and opening up a gap that became as large as 50 seconds.
After 20 minutes the peloton reeled them back in after elevating the pace, but there was an immediate counter attack from the same two teams albeit different riders. This time the breakaway duo had plenty fof firepower with yesterday's stage winner Ruby Rosemon-Gannon (Lexus of Blackburn) and Matilda Raynolds (Inform TMX MAKE) making the pace. The two pre-race favourites put the foot down, to open a 40 second buffer.
At the midway point Grace Brown (Lexus of Blackburn) tried to bridge the gap riding solo, and she managed to work hard enough between the leaders and the chasers to pick up third place.
The race in two came down to a sprint that Roseman-Gannon was always going to have the upper hand with and she jumped on the final corner after the uphill drag, taking the the stage win and the overall Lexus of Blackburn Bay Crits title.
"There's definitely a lot of pressure I put on myself but I think once the sprint starts and I know the race is going, I just go into this mode where I don't think and it will just happen for me across the line. I've been racing for over a decade at least, having that sort of experience, I just go into automatic mode."
"The sprint yesterday was a little bit more complex and I watched it back and I couldn't remember it happened. It's like being in an exam when you're so focused on what you're doing, the time just goes by. That's how I race and that's why I love it. "
"We wanted to make it aggressive. Both Grace Brown and I are strong riders, I was hoping that move would put the pressure on bit I only heard she went solo with three laps to go and I was hoping that if I eased off the pace she would make it across but I think at that point the gap had expand a bit too much. It was a team effort today and I appreciate all the effort from my team."
Roseman-Gannon revealed it was a significant win in her career, knowing the win this week helps sets her up for the Road nationals and also her season ahead with BikeExchange Jayco in Europe
"I actually raced this race for the first time in 2015 as a first year U19 and I was racing Gracie Elvin and I was pinching myself. This event will be monumental for me as a rider and building confidence to make it the world tour."