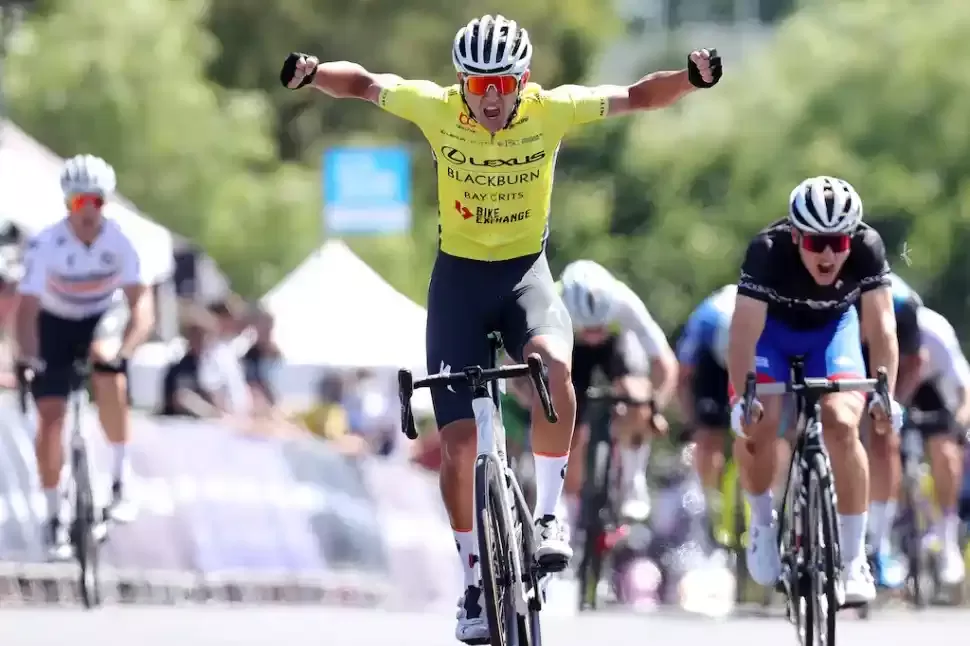 Rinse and Repeat - Blake Quick takes out both stages
In the men's category it was also a 'rinse and repeat' from Stage 1 as Blake Quick took out the biggest win of his career on home soil.
ke
There was some early attacks before a single rider managed to put a gap in, and just as it ticked over 25 minutes of the hour long event the lone breakaway race leader Bentley Niquet-Olden (Olivers Racing) unfortunately pushed too hard to maintain his small advantage, going down, crashing heavily on the corner leading onto the back straight. He was conscious after the incident, and treated on site for multiple lacerations but OK.
While this slowed proceedings a little it wasn't long before Simon Clarke (All Stars) strung out the peloton, using his WorldTour legs to put pressure on the local riders. Dalton Stretton (All stars) and Liam White (Olivers Racing) energised the race and got out to a 23 second lead with 10 minutes to go.
White attacked with a few laps remaining and rolled the dice in the hope that he could gap the opposition, but in the end was unsuccessful. Clarke again animated the race before it was all joined up again and Inform TMX MAKE Took control and powered Blake Quick to the line again ahead of Jensen Plowright (Lexus of Blackburn) and team mate Brenton Jones (Inform TMX MAKE).
"It was very chaotic, everyone was racing for the last corner, obviously you couldn't make up a lot of ground, you had to slow down a lot going into the corner. Jenson on the outside, BJ on the inside, I held him out a bit and from there it was the quickest man wins."
"The run in didn't go according to plan, it just got a bit chaotic with the wind as well down the bottom, just made it very hard. Coming into the last corner was perfect, BJ and I spoke before the race and he obviously he has won this race before and he said you basically have to be first or second through that last corner and the inside always wins."