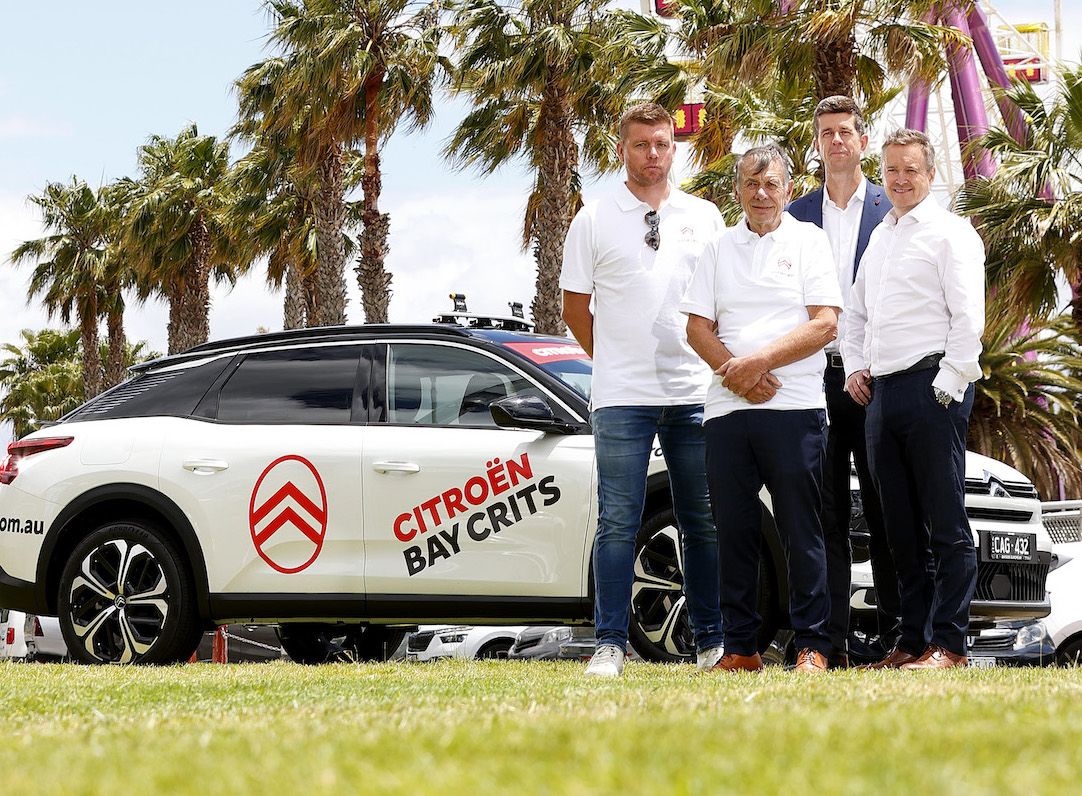 John Trevorrow is back to lead the 2023 CITROËN Bay Crits.
The famous Bay Crits is an event that is etched into the summer cycling psyche, an event that has forged its way into the sports history and heritage for over three decades.
It has more often than not proudly held its place as the first major event of the year, (anywhere in the globe given Australia's time zone) – and has often seen the unveiling of new teams, new colors and the debuting of new riders.
It is a series of tight, fast races that the elite riders want to ride, as well as the emerging crop of local and national aspirants who have used the 'Bay Crits' to kick start international careers.
The founding father and spiritual leader of the event, who is once again leading the 2023 'CITROËN Bay Crits' is John Trevorrow, known throughout the sport as 'Iffy' (and that's another story….) or simply JT.
John is a decorated Olympian, a three-time National Champion, pioneered Aussies riding in Europe, has a wry sense of humor, a nose for adventure and plenty of stories to tell – so when you come to this year's CITROËN Bay Crits on January 1-3 make sure you say G'day to our Race Director.
We sat down with the great man to get some of the unique history of this event:
"The CITROËN Bay Crits were first held in 1989. Formerly called the Bay Cycling Classic, last year we changed the title to the name is has always been affectionately called "The Bay Crits". It has been the event that kicks off the cycling calendar for more than 30 years."
"The Bay Crits has been an innovator over the years - taking the race to the people was what it was always about (it was summertime, so we hit the holiday spots around the Bay!). I'm proud to say it is recognised by National and International participants as the "fastest criterium series in the world".
The superstars of Australian cycling cut their teeth in the Bay Crits. Names such as Cadel Evans, Stuart O'Grady, Robbie McEwen, Brad McGee, Baden Cooke and, when the women's Bay Crits were introduced in 1994, it gave riders of the calibre of Kathy Watt, Anna Wilson, Oenone Wood and Rochelle Gilmore the opportunity to show off their class. The Bay Crits were the first cycling event in the world to offer equal prizemoney for men and women. "
"In the early days, it was Gary Sutton who showed his class, and many may not know this, but the Bay Crits was the only race Phil Anderson ever rode in Australia after he turned professional in 1980 until he retired in 1993."
"It was Tour de France Green Jersey winner Robbie McEwen who really dominated the Bay Crits in the late 90s through to 2005 with a record 6 wins."
"In more recent times we have seen the rise and rise of Caleb Ewan, who first starred as a 17-year-old in 2012 finishing second to Allan Davis then winning three times up to 2016. The women's event has blossomed over recent years with some of the best criterium racing seen anywhere in the world on show right here in Victoria. The quality fields have seen top riders such as Melissa Hoskins, Chloe Hosking, Gracie Elvin, and Italian stars Giorgia Bronzini and Valentina Scandolara, and recently Ruby Roseman-Gannon, take exciting victories."
"We are excited to have the Bay Crits back to three days to start the year in 2023. We will again be presenting the "Damion Drapac Foundation Support Race" for men and women who get their chance to display their talents in front of their peers, while paying tribute to an amazing young man that was tragically taken away too early. We also will have masters on show, displaying that they can still produce some serious horsepower at any age."
"I am especially pleased that we have been able to grow the events for the young stars of the future with the age group events for boys and girls from U15 to U19."
"The racing has always been great, and I'm sure this year will again provide all the razzamatazz and entertainment that makes this series so special".
"Events such as the Bay Crits don't just happen. It takes a strong team and some quality partners to make a truly great event. The Bay Crits has had that in spades."
"I would like to take this opportunity to congratulate my business partner Karin Jones and her team for helping elevate the race in recent years and to sincerely thank our naming rights partner CITROËN, our other commercial partners, local council partners and State Government, as well as AusCycling, most who have been with us for many years, and look forward to working with you all again in the future".
So, the CITROËN Bay Crits remain in good hands under the stewardship of John Trevorrow, who's vision, drive, persistence, and ambition nearly 40 years ago set up one of the most accessible and most loved events on the cycling calendar.
Thanks John and see you at this year's CITROËN Bay Crits….
And now it's your chance to see history, bring the family, its free entry and plenty of action in Eastern Park and Ritchie Boulevard…. Watch and cheer some of our very best international level riders, national and Commonwealth Games Champions and our emerging stars who will push them all the way. It's fast and it's fun!